Residential Carpet Prices Above. Commercial and Apartment Carpet Pricing By Bid
Welcome to Go Green Carpet Clean
Go Green is committed to great service. We also use green products because we want to protect both our customers and the environment. Our main focus is on making our customers happy.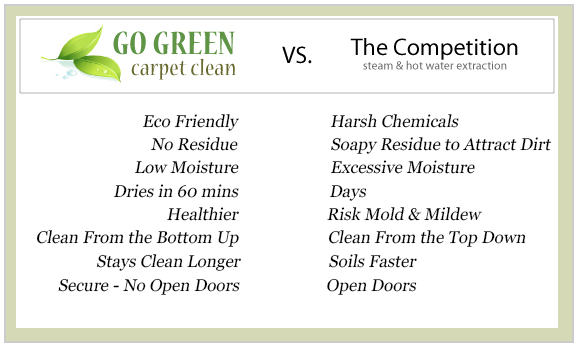 Go Green offers a variety of services for both commercial and residential customers. The residential services we offer include carpet cleaning, upholstery cleaning, leather cleaning, carpet repair and tile and grout cleaning. Upholstery cleaning and carpet cleaning are the commercial services that we offer.
Go Green hires the right people to get the job done. All of our technicians have completed all of the necessary training. They are also professional and experienced. Our technicians are one of the many things that make our company the success that it is today.
We also use the right equipment and cleaning solutions. The cleaning solutions we use are superior and safe. We believe that using safe cleaning solutions and equipment is just as important as using superior ones.
Go Green is here to meet your needs. We will go the extra mile to ensure that the job is done right. Call us today and schedule an appointment for our service.